Dr. Oleg Safir D.H. Gales Director
Oleg is an Orthopaedic surgeon at MSH who graduated from the Medical Academy in Dnepropetrovsk, Ukraine in 1990; Oleg completed his training in Orthopaedic surgery at the University of Tel Aviv, Israel. In 2006 Oleg completed a clinical and research fellowship in Adult Lower Extremity Reconstruction at MSH where he demonstrated exceptional clinical and academic skills. In 2008 Oleg completed a Masters Degree from the Ontario Institute for Studies in Education (OISE) at the University of Toronto and a fellowship at the Wilson Centre for Research in Education. Dr. Safir's clinical academic interest is in lower extremity reconstruction focusing on the revision arthroplasty of the hip and the use of osteotomies and osteochondral allograft transplantation around the knee. In his educational studies his main interest was in self-directed learning in the acquisition of surgical skills.
He is currently involved with the Competency-based Curriculum program for the Division of Orthopaedic Surgery. He is the leader for module-one, now called the Toronto Orthopaedic Boot Camp, which is a one-month course at the Skills Centre focusing on teaching and training new residents on surgical skills.
Shunne Leung Senior Manager of Surgical Skills Centre and SimSinai Centre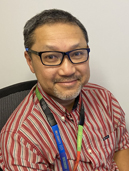 (416) 586-4800 x177471
As the Senior Manager, Shunne oversees the accredited Surgical and Medical Training Centres following the University of Toronto program directives in controlling and managing our program bookings, staffing profiles, IT support, business development and non-hospital finances. Mr. Leung began his work at the University of Toronto Surgical Skills Centre 20 years ago as the Assistant Manager. In 2013, his performance and dedication enabled him to assume greater responsibilities and was promoted to the position of Manager of the Skills Centre. Shunne holds a Hon. B.Sc. degree in Pharmacology and a Certificate in Business from the University of Toronto. His knowledge and experiences working in healthcare and educational facilities continues to contribute to our Centre's awards winning success. His knowledge, length of serve and work ethic have greatly contributed to our Centre's achievements in delivering an efficient and effective medical and surgical learning experience for all learners who attend our training sessions.
Lisa Satterthwaite Senior Consultant
(416) 586-4800 x172611
As Senior Consultant Lisa's role focuses on development of the annual PREP camp program, supporting new business bookings, working with foundation groups for funding prospects, management of annual reports and news letters, annual accreditation submissions to the American College of Surgeons AEI group, development of capital purchase opportunities, liaison with industry and academic groups for course development projects, teach programs as required, support new staff orientation, and manage and develop executive meeting programs between U of T and SHS stakeholders. Ms. Satterthwaite spent 22 years as the Senior Manager of the University of Toronto Surgical Skills Centre and 12 years at the SimSinai Centre. She holds an RPN diploma from Scarborough General Hospital and an honours diploma in Operating Room Techniques from Humber College. This is a new, part-time position, with Lisa working 2 days a week with the staff of the SSC and SimSinai to succeed in our goals.
Jason Faria Surgical Course Coordinator
(416) 586-4800 x176613
Jay joined the team full time in February 2008 following an intensive co-op from Central Commerce Collegiate. His keen interest and team spirit is a wonderful asset to the group. Jason assists with course duties and setups, audio-visual and lab inventory. He is responsible for ordering lab supplies and coordinating with medical companies to ensure the successful implementation of courses..
Alexander Nuberg Surgical Course Coordinator
(416) 586-4800 x176627
Alexander joined the team full time in the fall of 2017. In 2010 he started at the SSC as a high school co-op student. He then worked throughout the following summers, as he completed his Bachelor of Science Degree in Psychology at York University. Having spent many years in the lab, he is finely tuned to the growing change and workplace dynamics of the SSC.
Finch Taylor Surgical Course Coordinator
(416) 586-4800 x173856
Finch Taylor started at the Surgical Skills Centre in 2014 after spending 2 years at the SimSinai Centre as a Simulation Technician. Finch is invovled in booking courses for both affiliates and industry and all that it encompasses: logistical delivery of equipment, maintaining stock levels of surgical instrumentation, disposibles, audio/visual support, troubleshooting, set-up and mapping of events. Finch is a graphic design graduate of OCAD University and brings his knowledge and experience from working 14 years in the educational publishing field and 7 years in private business practice to the Centre. He is a Mac guy but sometimes he has to be a PC guy too!
Vanessa Chan Surgical Technician
(416) 586-4800 x172620
Vanessa joined the Surgical Skills Centre in 2023. Vanessa brings with her experience and knowledge from working in an Operating Room environment, as well as many years of experience in the hospitality industry. In her spare time Vanessa enjoys working out, watching movies, and traveling. Vanessa hopes to soon visit all the destinations she has on her "travel bucket list.
Cameron Gravely Surgical Technician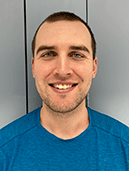 (416) 586-4800 x174920
Cameron has a strong background in Human Anatomy and Physical performance. He graduated with Honors from the Humber College Fitness and Health Promotion program in 2022. Cameron has also completed various courses and certification programs through The University of Western Ontario that include the CHEK Institute and The Coaches Association of Canada. Cameron is an avid sports fan and participates in hockey (ice and ball) as well as basketball leagues.
Cameron brings a wide range of work experience via previous employment at the University Health Network (UHN) and as an apprentice carpenter. Cameron looks forward to applying and implementing his interest in Human Anatomy and Biological Systems to the Surgical Skills Centre education programs! Go Leaf's